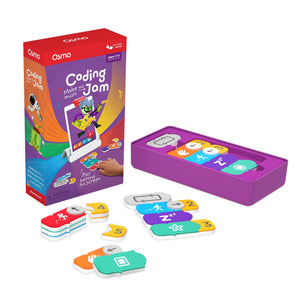 Coding is a modern superpower, a new language. Your little genius will learn to succeed in an increasingly digital world with Osmo Coding Jam. They will learn how to compose music, learn to make rhyhthms and sequences using tangible coding blocks, and gain an insight into programming. With Osmo Coding Jam, kids learn logic skills and programming, enhance problem solving and refine sequential thinking.
Coding and Music = Twice the fun with universal language!
Coding Jam uses hands-on physical blocks as coding commands while placing them into sequences, loops and actions to create sounds from different worlds. This interactive game will fire up a child's imagination, inspire dreams and build confidence, while teaching them to compose their own music through code.
Coolest way to code!
Each block is a coding command that is part of an open-ended music studio with dozens of characters and instruments used by kids to create their own music. For added confidence and enjoyment, music can be safely shared with family and friends, who can vote for the most Jamtastic tune of the day, perhaps even making it to the top of the Osmo hit list.
The Osmo Coding Jame Game: 
Suitable for ages 5-12
Learn how to compose music through code, recognise patterns and sequences, and learn coding fundamentals, while enhancing multiplicative thinking and problem-solving skills
Explores functions of decomposed parts and crafting algorithms
Teaches computational thinking while also teaching how to compose music and create rhythm and harmony using tangible coding blocks
You can jam to some cool beats and share your tracks with friends and family
Easy to set-up. Built-in collaboration, allowing multiple kids to play together
Approved by parents and teachers worldwide, used in over 30,000+ classrooms
What's in the box:
23 magnetic coding blocks
Stackable storage
Coding Jam app
What they'll learn:
Coding fundamentals
Pattern recognition
Sequencing and loops
Creative coding
Compatibility:
Compatible with all iPads except Generation 1, iPad Pro 11-inch, and iPad Pro 12.9-inch. The minimum iOS version needed is iOS 9.
Important: Requires an iPad and an Osmo base to play (Sold separately)
Osmo FAQs
What is Osmo?
Osmo makes hands-on learning games in which players use objects in the real world to interact with the digital world shown on their iPad. Children playing Osmo have so much fun they don't realize they are learning.

How does Osmo work?
Osmo games are designed to work with an iPad. A child moves at their own speed through multiple levels. Osmo games ship with the game essentials, along with storage. No WiFi is necessary for game play.

What makes Osmo toys good for children?
Children learn best through play. Combining tangible pieces with an interactive game fires up a child's imagination, inspires dreams and builds confidence and real-life skills.

How do children play with Osmo?
Osmo merges tactile exploration with innovative technology, actively engaging children in the learning process. Osmo is great for at home or classroom learning in pairs or on their own.

How does Osmo compare with other toys?
Osmo products stand in a class of their own providing meaningful game play which inspires learning. Osmo fuses digital game play and physical interaction to create fun and nutritious play experiences designed for all children.
choosing a selection results in a full page refresh
press the space key then arrow keys to make a selection