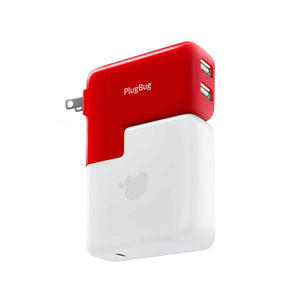 Supercharge your MacBook charger.
Congrats - you've got the newest MacBook with USB-C. Uh-oh, it doesn't charge any of your older gear - your wireless headphones, battery pack, Magic Mouse, etc. PlugBug Duo to the rescue! Snap PlugBug Duo onto your Apple MacBook power adapter and add back two traditional USB charging ports. The perfect accessory for crowded airports, coffee shops, or office power strips, you can charge 3 devices from just one outlet. With five international adapters you can stay charged in over 150 countries, while also being your dual USB charger - no dongles needed! 
Adds 2 traditional USB charging ports to your MacBook Pro Power Adapter 
Charges 3 items from just one outlet (MacBook + 2 USB charged devices) 
Adapts MacBook to over 150 countries with 5 included adapters 
Available 2.1A rapid-charges all iPhones & iPads
Relief for disappearing USB Ports.
If you've upgraded your MacBook recently you've noticed it only has USB-C ports, making it a challenge to charge your iPhone, wireless headphones, battery packs, etc., with your MacBook. Instead of buying dongles or carrying extra chargers, why not add PlugBug Duo to the MacBook charger you already have - so you can charge two USB devices, and your MacBook, simultaneously, with one device.
Charge three devices from just one outlet.
PlugBug Duo snaps onto your MacBook power adapter giving you the ability to charge your MacBook plus two additional USB powered devices, such as your iPhone and AirPods, from one outlet. Imagine how awesome that would be in an airport or a coffee shop where outlets are scarce. No more having to decide which item to charge before you board a plane or on a break at a conference.
Charge your MacBook in over 150 countries.
PlugBug Duo includes five Plug Adapters so you can convert your MacBook Power Supply to fit outlets in over 150 Countries. Wherever you roam on your next vacation or business trip, PlugBug has your charging needs covered by adapting your MacBook AND giving you two USB charging outlets.
Make your MacBook charger a Supercharger.
PlugBug Duo really does make your MacBook Power Adaptor even better. How? It snaps onto your MacBook Charger giving you three chargers in one. And this red wonder adapts your MacBook to work anywhere in the world. Why wouldn't you carry PlugBug Duo in your computer bag or backpack? 

But, why is PlugBug Red? Well, thats another¬†story'Ķ
choosing a selection results in a full page refresh
press the space key then arrow keys to make a selection