Take your exploration of electronics to the next step and beyond with our range of award winning electronics kits and components - Explore how circuits and electricity work through a variety of craft based project ideas and learn more about these simple circuits by building functional and engaging.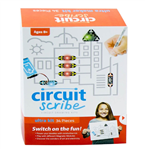 Circuit Scribe Conductive Ink
"Super Fast Postage & Great Product. At the very last minute I decided to order a Chibitronics kits for my sons school project and it was perfect and arrived just in time."
Wendy, Forest Lake
2 APR 2017, 12:21
"What if your notebook could be illuminated? A great tool for learning basic electronics suitable for adults, children and teachers. It inspires and hints at further project possibilities."
Eileen, Charnwood
15 SEP 2017, 14:42
littleBits Classroom
Easily access lesson plans, educator guides, activities, troubleshooting tips, and customizable handouts for different grades, subjects, and learning pathways.
15 SEP 2017, 14:42