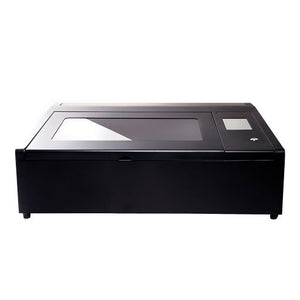 Beambox
Free your inner artist and bring your ideas to life. Beambox is a powerful laser cutter and engraver that lets you shape, cut, and engrave on materials like wood, leather, acrylic, and cardboard. Beambox meets all your expectations, and goes way beyond.
Desktop sized
The friendly price and desktop sized design make Beambox suitable for any home, school, or small business. With his size (25 x 83 x 67 cm) and competitive price, it is the perfect desktop sized laser cutter/engraver of the FLUX family.
Powerful
Beambox packs features found in professional industrial laser cutter.
Use the built-in HD camera to preview the work area and the workpiece on your laptop or phone. Place your design exactly where you want, and get exactly what you expect.
The closed-loop water cooling system circulates water throughout the machine, keeping the components at the proper temperature at all times.
Unlock Beambox's 3D potential and engrave on curved objects like glassware and bottles. The rotary module spins the workpiece. This easy-to-install add-on opens up whole new creative dimensions.
Beambox uses a laser that is smaller than the width of a human hair and engraves with 0.05mm layer depth. The 1,000 DPI resolution will amaze you.
How it works
Effortless printing experience, makes it quick and easy
Craft Your Favorite Material
Users can shape, cut, and engrave on an enormous range of materials including wood, leather, acrylic, fabric, cardboard, stainless steel, anode metal, glass, cement, and much more.
Camera Preview - What You See Is What You Make
Simply take a snapshot before you print. Build-in camera allows you to preview your design on any material. Place your design with your mouse or finger and position it exactly where you want.
Wi-Fi Connection, Anytime, Anywhere
Beambox brings out the best of wireless technology by fast setting, file transfer, and monitoring of work status. No matter where you are, via WIFI, Beambox is at your disposal.
Design Software Supported

Compatible with JPG / PNG / SVG / DXF, so just use the graphics editor that is best for you, Adobe Illustrator, Autocad, Inkscape, CorelDraw, even Microsoft Word!

 
Hassle Free Software & App
FLUX's in-house developed software Beam Studio & iOS/Android app Beam Go provides a one-stop design experience. Edit texts and vector files, modify bitmap images, align, distribute objects, and many more.
Safe for Home and School
Beambox is fully enclosed, and it automatically pauses if the lid is opened during a task. If an emergency occurs, you can shut down the machine immediately with a single switch.
Tech specs
choosing a selection results in a full page refresh
press the space key then arrow keys to make a selection