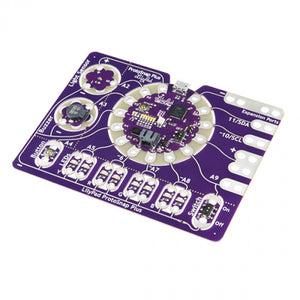 The LilyPad ProtoSnap Plus Kit is an all-in-one e-textile prototyping kit that has been specifically designed to make it as easy as possible to incorporate electronics into any of your garments or fabrics. There are 10 kits in this Lab Pack, and each kit includes a LilyPad ProtoSnap Plus, which is a sewable electronics powerhouse. The LilyPad ProtoSnap Plus allows you to explore circuits and programming before breaking the pieces out to make an interactive fabric or wearable project.
Also included in each kit is a USB cable, 110mAh LiPo battery, needle set and two conductive thread bobbins. With all of these parts combined and the featured Activity Guide (found in the Documents tab), you will be able to plan and create fantastic projects in no time!
SparkFun packages everything educators need to get started with this platform in a variety of classroom and makerspace settings. The hardware boards, cables and extra parts come pre-packaged, and our online support materials help you bring the power of the open source community to your classroom.
The Arduino programming environment is a free download, making getting started as simple as opening your kits, opening a programming window on your computer, and loading example code to the microcontroller. Arduino is a model for the open source movement. All of the basics in this C-based language are laid out in simple examples that students, teachers and parents can understand and work with right from the start by accessing the example files in the programming environment. The community support offered by Arduino is second to none. Hundreds of examples of code are available for free online, and wiring examples for hardware are easy to find. The Arduino hardware and software are C-based, and because of this they are easy to link to internet-based applications and common programs such as Microsoft® Excel, MATLAB, LabView and even POP3 mail applications. Also, Arduino has a free companion language, Processing, which gives users the ability to create very friendly interfaces that can graph, create gaming options and do a dizzying amount of data visualization.
We have also written an online [Activity Guide](https://learn.sparkfun.com/tutorials/lilypad-protosnap-plus-activity-guide?_ga=2.5270459.946437751.1512403047-1794757627.1467916508) that teaches you how to program in Arduino with the LilyPad ProtoSnap Plus. This guide includes 10 example activities that use the pre-wired LilyPad boards on the LilyPad ProtoSnap Plus after you\'ve completed the Hookup Guide linked below and in the Documents tab.
Please be aware that the LilyPad ProtoSnap Plus Lab Pack is **NOT supported on Windows 7/8** due to a lack of support drivers for those specific OS\'s.
**Note:** A portion of this sale is given back to Dr. Leah Buechley for continued development and education in e-textiles and also to Arduino LLC to help fund continued development of new tools and new IDE features.
**Note:** This item may take longer to process due to battery installed in the equipment and therefore does not qualify for [same-day shipping](https://www.sparkfun.com/support#Same-DayShipping). Additionally, these batteries cannot be shipped via Ground or Economy methods to Alaska or Hawaii. Sorry for any inconvenience this may cause.
->
choosing a selection results in a full page refresh
press the space key then arrow keys to make a selection