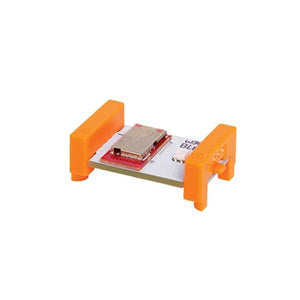 The littleBits Bluetooth Low Energy Bit (marked BLE on your Bit) is the easiest way to control your inventions wirelessly from any smart device (like a phone or tablet).

All you need is the littleBits Invent app and this Bit to move motors on wireless vehicles or trigger buzzers for pranks. You can also use your circuit to control functions on your device like triggering the camera to take a picture.
HOW IT WORKS
The Bluetooth Low Energy Bit can send and receive a signal from your smart device using Bluetooth Low Energy wireless technology up to a distance of about 80ft (25m) indoors.
To use the Bluetooth Low Energy Bit you first need to connect it to your smart device (smartphone tablet) through the littleBits Invent app. Check your devices compatibility at littleBits.com/app. Click the arrow to the right to learn what you can do with this Bit! Once connected you can use the app's controls to send signal information from your device to your circuit and vice versa. You can also create custom control dashboards for your inventions. Controls range from simple buttons and dimmers to accelerometers. You can communicate with up to 2 Bluetooth Low Energy Bits at the same time.
USING THE BLUETOOTH LOW ENERGY BIT TO CONTROL YOUR DEVICE DISPLAY SCREEN- You can take remote readings of the signals going into your Bluetooth Low Energy Bit with on-screen readouts.
PHOTOS & VIDEO- Signals from the Bluetooth Low Energy Bit can control the camera on your phone letting you take photos and video remotely.
USING YOUR DEVICE TO CONTROL YOUR BLUETOOTH LOW ENERGY BIT TOUCH SCREEN- Send signals to your Bluetooth Low Energy Bit with on-screen buttons sliders and other controls.
MOVEMENT- The accelerometer and gyroscope in your device sense movement. The signals from these sensors can be sent to your Bluetooth Low Energy Bit to control your circuits.
choosing a selection results in a full page refresh
press the space key then arrow keys to make a selection