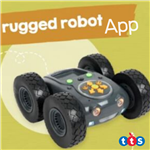 DOWNLOAD THE RUGGED ROBOT APP - iOS VERSION HERE
DOWNLOAD THE RUGGED ROBOT APP - ANDROID VERSION

Key features
Download the app to control Rugged Robot, the latest addition to the TTS floor robot family. The app enables you to write an algorithm, send it and then Rugged Robot will follow your instructions.
There are numerous features, which make writing algorithms both fun and educational. Please note: Rugged Robot Floor Robot is compatible with any iPad with version 3.0/4.0+ EDR / BLE Bluetooth i.e. iPad3 and later.
Use step-by-step for beginners
• Get to grips with directional control with step-by-step commands Move onto basic programming • Create and debug algorithms Use explore mode to develop algorithms: • Drag and drop programming. Just drag your instructions into the left hand bar to save • Include repeats to make things even more fun • Program 45 degree turns • Control the 3 speed settings • Turn obstacle avoidance on/off Children can also record themselves saying a command and can assign it to a button on Rugged Robot. As the algorithm progresses, they will hear themselves giving the instructions. Notes: Pairing: Rugged Robot DOES NOT need to be manually paired with an iPad. If Bluetooth is enabled on the iPad and a Rugged Robot is switched on and available, the app will connect automatically. This app can be installed in older iPads but will have limited functionality and CANNOT be used to control a Rugged Robot floor robot.
If you are looking for a Rugged Robot, we've got you covered!
Click here to see the whole range.
choosing a selection results in a full page refresh
press the space key then arrow keys to make a selection