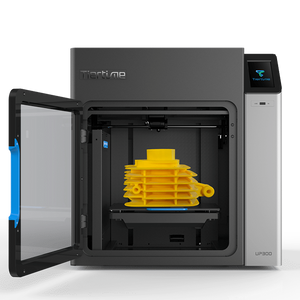 Introducing The Next Generation UP300
The flagship model of UP series 3D printers, the UP300 has a large build volume and consistent performance across different materials.
Key Features of the UP300 3D Printer
Material Specific Print Heads
Print with different print heads optimised for different materials, ensuring you get only the cleanest prints on your UP300 3D printer. One is for ABS and other high temperature filaments, one for lower temperature filaments such as PLA, and the other is for TPU, a flexible polyurethane.
For ultimate in safety, the new UP300 has two filtration systems to ensure the absolute purity of airflow around the printer. A HEPA and activated carbon filter combined with higher airflow capacity allows the maintaining of minimal UFP and VOC density inside the printer's large enclosure.
Interchangeable Build Plates
New double-sided build plate design allows you to remove prints easier due to the increased rigidity of the plates. The glass surface provides a consistent, flat base, ensuring a smooth underside of your models.
The new Tiertime print queue allows for multiple users on the network can become the queue's administrator, controlling and re-ordering the print queue. Select the next file from the print queue when with the printer, minimising downtime and letting you make faster than ever before!
Specifications of the UP300 3D Printer
Printing Technology: MEM (Melted Extrusion Modelling)
Extruder: Single – Includes interchangeable material specific print heads.  1 x High temperature, 1 x PLA & 1 x flexible
Build Volume: 205 × 255 × 225 mm (X,Y,Z)
Nozzle Diameter: 0.2mm, 0.4mm, 0.6mm
Layer resolution: 0.05/0.1/0.15/0.2/0.25/0.3/0.35/0.4
Extruder Maximum temperature: 299℃
Extruder Maximum travel speed: 200 mm/sec
XYZ accuracy: 2, 2, 0.5 micron
Connectivity: USB cable, Wi-Fi, LAN and USB Stick
Touch Screen: 7″ colour LCD screen
Printed object accuracy: ±0.1mm/100mm
Build plate maximum temperature: 100℃
Calibration and Leveling: Automatic
Print Surface: Perf Glass or Flex Glass, Heated
Enclosure: Full
Dual Filtration System: HEPA and active carbon filters
Print Resume on Power Interrupt: Yes
Pause to change the type of filament: Yes
Out of filament detection: Yes
Filament Compatibility: UP Fila ABS, ABS+, PLA, TPU and more
Filament Diameter: 1.75mm
Filament Spool Compatibility: 500g - 2000g
Auto-Swapping Build Plate: No (check out the X5)
Print queue: Yes
Compatible with 3rd Party Materials: Yes
Machine dimensions: 850 x 625 x 520 mm
Power Input: 110-240VAC,50-60Hz,90W
Shipping Weight: 43.7kg
Shipping Dimensions: 60x57x67cm
Whats in the box?

Everything you need is in the box, ready for you to start turning your ideas into real parts. You don't require any extras - we even include a free roll filament and other accessories with your new 3D Printer. Here is a complete list of the package contents:

1x UP300 with ABS Extruder Preinstalled
1x 500g Spool of ABS Filament
1x Flex Glass Board
1x Perf Glass Board
1x Power Adater
1x Power Cord
1x PLA Extruder with 0.4mm Nozzle
1x TPU Extruder with 0.5mm Nozzle
1x USB Cable
1x Pliers
1x Scraper
1x Nozzle Wrench: 8mm
1x Pair of Gloves
1x SD Card
1x SD Card Reader
1x Calibration Card
2x PTFE Tube: Shorter one for PLA Extruder, Longer one for TPU Extruder
3x Allen Keys: 2mm, 2.5mm, 3mm
3x Nozzles: 0.2mm, 0.4mm, 0.6mm
Warranty and Support
The UP300 3D Printer comes with a standard 1 year warranty, which can be upgraded to 2 or 3 years.

choosing a selection results in a full page refresh
press the space key then arrow keys to make a selection