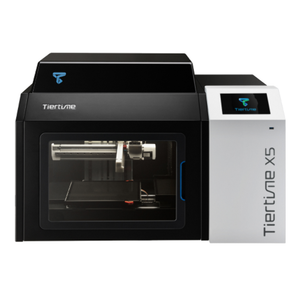 Introducing the New X5 Contin-U-Print 3D Printer
The new X5 is an automated 3D manufacturing printer, which can turn your classroom or makerspace into a production line for continuous 3D printing. Specifically designed for schools that require to print hundreds of projects a week.
Key Features of the X5 Contin-U-Print 3D Printer
Automatically prints multiple projects by switching out build plates
Churn out print after print after print after print after print after print…Stack up and queue up to 12 build plates. Smart self-reloading build plates mean minimal human interaction is required for a hands-free, continuous 3D printing experience. All the user needs to do is to clean off the completed print platforms and then load the clean plate back into the printer (to print more than 12 jobs continuously)

Dual Filtration Systems means improved Health and Safety

Both PLA and ABS are "high emitters" of UFP and VOC and it is essential for Health & Safety compliance that you have a safe environment to print in. Like the UP BOX+, with its first-in-class air filtration system, the x5 advocates safer 3D printing. With an improved Dual Filtration System, using both HEPA and Activated Carbon filters, it greatly reduces UFP and VOC density inside the printer
Checking print job status has never been easier. The X5's large 7" LCD touch screen reports print queue progress and the printer's transparent top makes visual build confirmation effortless. Users on the network can spool their jobs to the integrated print queue.
Specifications of the X5 Contin-U-Print 3D Printer
Printing Technology: MEM (Melted Extrusion Modelling)
Extruder: Single
Build Volume: 180 × 230 × 200 mm (X,Y,Z)
Nozzle Diameter: 0.2mm, 0.4mm, 0.6mm
Layer resolution: 0.05/0.1/0.15/0.2/0.25/0.3/0.35/0.4
Extruder Maximum temperature: 299℃
Extruder Maximum travel speed: 200 mm/sec
XYZ accuracy: 2, 2, 0.5 micron
Connectivity: USB cable, Wi-Fi, LAN and USB Stick
Touch Screen: 7″ colour LCD screen
Printed object accuracy: ±0.1mm/100mm
Build plate maximum temperature: 100℃
Calibration and Levelling:
Manual Calibration and Levelling
Print Surface: UP Perfboard, Heated
Enclosure: Full
Dual Filtration System: HEPA and active carbon filters
Print Resume on Power Interrupt: Yes
Pause to change the type of filament: Yes
Out of filament detection: Yes
Filament Compatibility: UP Fila ABS, ABS+, PLA, TPU and more
Filament Diameter: 1.75mm
Note: The base X5 3D printer is fitted with a PLA print head ONLY. It can be swapped out for either ABS or TPU print heads. (sold separately)
Note: Due to large volume printing, ABS+ filament is recommended.
choosing a selection results in a full page refresh
press the space key then arrow keys to make a selection